Did you know that some of the United States is bordered by the ocean? While many people associate the coast with California, Florida, and Hawaii, several additional states border the ocean. 
From the rocky shorelines of Maine to the picturesque beaches of Oregon and Washington, the US coast has something for everyone. 
In this article, you'll take a closer look at the states which border the ocean (from the pacific to the Gulf of Mexico). You will also explore all the maritime delights each state has to offer. So, let's dive right in.
US States Bordering the Atlantic Ocean
14 US states border the Atlantic Ocean. From north to south, Maine is the first state bordering the Atlantic. 
It is followed closely by New Hampshire, Massachusetts, Rhode Island, Connecticut, New York, New Jersey, Delaware, Maryland, Virginia, North Carolina, South Carolina, Georgia, and Florida. 
These states provide a fantastic variety of experiences on America's Eastern Seaboard. There is something for everyone, from up-and-coming cities to classic beach towns.
Whether you're looking for outdoor adventure, vibrant culture, or a relaxing escape from everyday life, these remarkable states will not disappoint.
Description of each state's coastline
Maine, for example, has a 3,500-mile-long rocky coastline dotted with beautiful lighthouses and quaint fishing towns. The short but stunning New Hampshire coastline has rugged hills and sandy beaches that attract tourists year-round.
Massachusetts is home to the well-known Cape Cod peninsula, a well-liked holiday spot with charming towns and beautiful shores. Rhode Island is renowned for its stunning coastal drives and ancient Newport mansions. Long sandy beaches and charming small villages are along Connecticut's coastline.
New York City predominates on the New York coast, but Long Island has miles of beaches and pleasant coastal towns. With its casinos and boardwalk, Atlantic City, New Jersey, attracts visitors, while Rehoboth Beach, Delaware, is a popular family vacation spot.
While Virginia Beach is a bustling vacation city with a lively boardwalk, Maryland's Eastern Shore is renowned for its seafood and charming towns. The Outer Banks of North Carolina have some of the most breathtaking beaches in the nation, and Charleston, South Carolina, is a charming city with a fascinating past.
Savannah, a historic city, and the Golden Isles, a collection of barrier islands with beautiful beaches, are located on Georgia's coast. Florida is arguably the most well-known state along the Atlantic coast, with its famous beaches, amusement parks, and nightlife.  
Miami, Daytona Beach, Palm Beach, and many other famous destinations are in Florida (the Sunshine State).
US States Bordering the Pacific Ocean
Bordering the majestic Pacific Ocean (west coast) is a stunning stretch of coastline that makes up the US states of Washington, Oregon, California, Alaska, and sometimes Hawaii. 
From rugged shorelines to luscious temperate rainforests, this region of the US offers an array of unique experiences for anyone looking to explore. 
Description of each state's coastline
Washington's beaches are known for their distinctive sandstone cliffs and hidden coves. On Oregon's coast, vast dunes make for memorable scenes. Furthermore, the lush forests and geologic wonders like towering sea stacks provide endless opportunities for outdoor adventure. 
In California, you'll find some of the world's most beautiful stretches of shoreline. San Francisco's Golden Gate Bridge and Santa Barbara's stunning cliffs are a few reasons why many people love this state.
Finally, Alaska's Pacific coastline offers miles of pristine wilderness. Eco-tourists flock here hoping to see the amazing wildlife – from bald eagles to grizzly bears – while adventurers take on whitewater rafting or kayaking around its fjords. 
Whether you're yearning for an exploration of nature or an escape from the city, these four states have something for everyone who visits them.
US States Bordering the Gulf of Mexico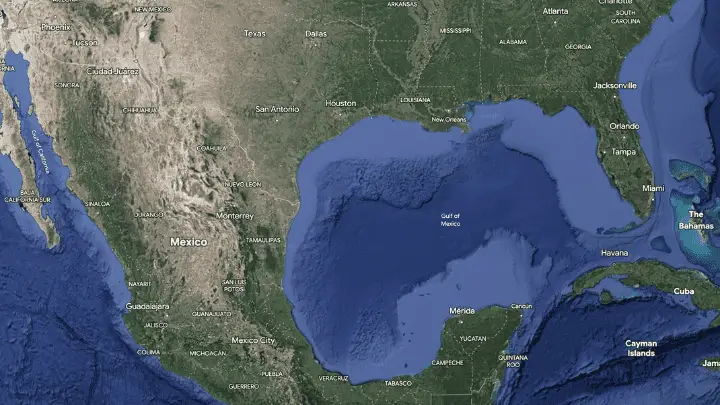 Lying along the Gulf Coast of the United States, five states border the beautiful and iconic Gulf of Mexico. These states are Texas, Louisiana, Mississippi, Alabama, and Florida. 
Description of each state's coastline
Texas is home to some of the largest cities on the Gulf Coast, such as Houston and Corpus Christi, as well as stunning beaches and attractions like South Padre Island. 
Louisiana offers plenty of opportunities for fishing, Cajun cuisine, and great music in its lively city of New Orleans. Nature lovers will find plenty to explore in Mississippi, with a diverse range of wildlife in its coastal swamps, marshes, and barrier islands. 
In Alabama's Gulf shores, you can take advantage of some of the best beaches in the Southeast. Then, in Florida, you can relax on warm sandy beaches along the Panhandle or explore the vibrant culture of Miami and other major cities.

From thrilling adventures to peaceful relaxation, all five US states bordering the Gulf of Mexico have something unique to offer visitors.
FAQs 
Which US state has the longest coastline along the Atlantic Ocean?
Maine has the longest coastline along the Atlantic Ocean among all US states, extending for over 3,500 miles.
Which US state has the longest coastline?
Alaska has the longest coastline among all US states, with a coastline that stretches for about 6,640 miles.
Which US state has the warmest ocean water?
Hawaii has the warmest ocean water among all US states due to its location in the tropical Pacific Ocean.
What is the most populous state among US states bordering the ocean?
California is the most populous state among US states bordering the ocean, with over 40 million people residing along its Pacific coastline.
Conclusion
I hope this article has given you a better understanding of the many US states that border the ocean. These coastal regions make up some of America's most beautiful scenery, from the Atlantic to the Pacific to the Gulf of Mexico. 
The United States' stunning coastlines are an integral part of its geography and culture, so why not take a moment to appreciate the states that border the ocean? 
Whether you're looking for a relaxing beach vacation or an action-packed adventure, there's something for everyone at our nation's seashores. 
Check out the opportunities in these areas and get ready to enjoy some ocean fun. In addition, the ocean makes us 71% of the earth's surface, and plastic pollution is a major problem facing the ocean.
But how does the plastic get there? Read the article on how plastic gets into the ocean to learn more.
Thanks for reading.