Biotechnology has numerous fields and subfields of specialization. To land entry-level biotech jobs, you need a degree or an associate degree from a community college or university in a science or engineering discipline.
These institutions provide the background and hands-on education you need to succeed in entry-level roles. In the end, you will earn a certificate that emphasizes your technical skills and positions you for beginner roles like cell culture technician.
Over time and as you accumulate experience, you will get the chance to advance your career. This may shape a new job, a promotion, or further studies (M.Sc. and Ph.D.). 
This guide will expose you to the educational requirements for a career in biotechnology and the various entry-level biotech jobs you can apply for. You should also look forward to extra information on salary and the critical responsibilities for each role.
What are the Requirements For an Entry Level Biotech Job?
As a fresh graduate or someone with little or no experience, it is only ideal for you to target entry-level roles in the biotech niche. 
It would be best if you had a BS (bachelor's degree in science) or an associate degree in chemistry, biology, technology, or engineering to land these roles.
You might be allowed to seek an internship at a company during your studies. If such an opportunity does not present itself, you can repurpose your holidays for periodic internships.
Aside from the educational requirements, entry-level biotech jobs require strong technical skills, the ability to multitask, and excellent oral and written communication skills. 
You must also be familiar with the procedures and terminology for the position you are applying for.
Examples of Entry Level Biotech Jobs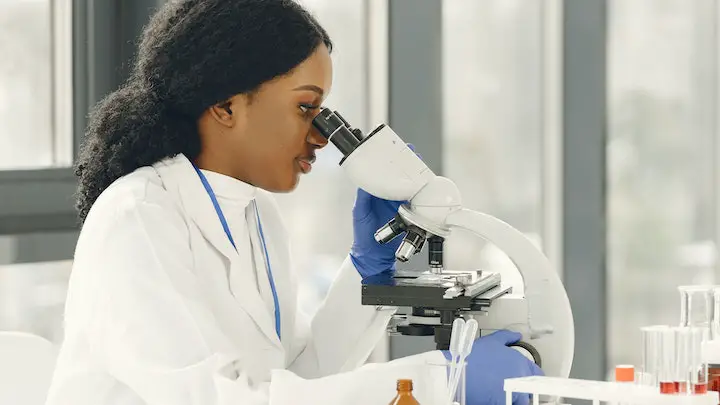 Most entry-level biotech jobs have the word "technician" accompanying them. Let's take a look at some of the common ones and what they are all about:
1. Agricultural Science Technician
The role of an agricultural science technician includes the following:
Storing crop and animal samples in the best way possible
Operating farm equipment
Ensuring agricultural production units conform to scientific evaluation parameters
Measuring ingredients used in testing animal feeds
Inspecting crops and animals for diseases and other problems
There are different subfields in this position. They include food processing technology, carbon management and sequestration, and microbiology. 
Nevertheless, the major role of an agricultural science technician in a private organization is to increase productivity. In federal or government settings, they are more regulatory in function.
Other titles for this position include Agriculture Research Technician, Seed Analyst, Agricultural Research Technologist, County Extension Agent, and Seed Analyst.
2. Animal Technician
Animal technicians care for laboratory animals needed for biotechnology, veterinary medicine, and product testing. In other words, their area of specialization usually revolves around:
Agricultural biotechnology
Animal biotechnology
Aquaculture – the cultivation of aquatic plants and animals
Cosmetics – study, and discovery of anesthetic drugs 
Drug discovery
Medical diagnostics
These specimens help scientists understand drug interaction in biological systems. Mice and rats are commonly used. However, in some cases, birds, rabbits, or guide pigs may become ideal. 
3. Biofuel Technician
Biofuel technicians operate fermenters and oversee processes like distillation, grain preparation, separation technology, algae culture, and oil chemistry. For context their fields include:
Agricultural biotechnology
Aquaculture
Biofuels
Bioprocessing
You can work independently in this position or alongside manufacturing assistants. This role is usually performed in shifts because production is a round-the-clock thing. 
4. Cell Culture Technician
Cell culture technicians grow living cells in containers such as culture flasks, plates, and bioreactors. As a result, this role expects you to be familiar with the following:
Cell culture techniques
Molecular biology
Media preparation
Tumor cell isolation
Microscopy techniques
cGMPs (Current Good Manufacturing Practice) regulations enforced by the FDA
Cell culture technicians sometimes supervise manufacturing assistants. Hence, the role may come with shift options.
5. Clinical Research Associate
The primary role of a clinical research associate is to evaluate the safety and efficacy of new drugs in human patients. These studies are commonly referred to as clinical trials.
A clinical research associate handles:
Data collection from patients
Verification of these data
Monitoring study sites
Reviewing compliance, standard operating procedure, and regulatory requirements
Hence, this position may also be advertised as a Clinical Operations Associate or Clinical Research Monitor role.
6. Environmental Health and Safety Technician
Employees in research or biotechnology facilities are constantly at risk of exposure to various chemicals, and physical and biological hazards daily. It is the role of an environmental health and safety technician to create an environment devoid of danger.
To do this, they:
Organize, implement, and direct periodic health and safety programs for various departments in an organization.
Install, calibrate, and ensure scientific equipment is safe for use.
Monitor the quality of a facility's water, air, and other environmental details.
Investigate accidents and develop ways to prevent a repeat of such accidents or incidents.
Work with the plant manager and engineers to recommend equipment replacements.
Capture and maintain records of all their activities and ensure they align with internal compliance auditing.
An excellent environmental health and safety technician should be skilled in data collection, analysis, and report generation, and possess outstanding interpersonal skills.
7. Genomic Technician
Genomics technicians employ various techniques for determining and comparing DNA and RNA sequences. To land this entry biotech role, you must be able to execute the following:
DNA or RNA isolation
Titration
Perform quality control
Work with different microarrays, PCR, and DNA sequencing equipment
Library construction from DNA and RNA
Quality control via Agilent Bioanalyzer and nanodrop spectrophotometer
8. Laboratory Assistant
This is one of the easiest ways to kickstart your biotech career. Their roles usually involve:
Washing, drying, and sterilizing glassware and other containers in a laboratory.
Testing these items for sterility
Ensuring the laboratory is clean always
Arranging equipment 
Maintaining inventory of all laboratory equipment 
Other names for this position may include glasswasher, clean room technician, laboratory support worker, laboratory aide, and equipment preparation technician.
Alternative Entry-Level Jobs to Watch Out For
Other entry-level biotech jobs to watch out for include:
Compliance Specialist
Facilities Technician
Food Sample Inspector
Greenhouse or field technician
What is the Salary for Entry Level Biotech Jobs?
Most entry-level biotech jobs pay an average salary of about $72,470 annually. This figure may depend more or less on the company that hires you and your role.
FAQs
Which country is best for biotech jobs?
To stand a better chance at landing entry-level biotech roles, it is best to be in countries like the United States, Sweden, Germany, and the United Kingdom.
Is biotech a stable career?
Biotech is a stable career. The field provides numerous jobs to qualified job seekers and gives room for career development.
Which is better: microbiology or biotechnology?
Both microbiology and biotechnology are amazing courses. 
You just need to evaluate your interests and decide which ones align with your career path.
Conclusion
Biotechnology is an ever-evolving field with lots of exciting entry-level roles. To work in this space, you must complete your study hours in a college or university and earn a bachelor's or an associate's degree.
Upon completion, you can choose an area you are very interested in from any of the options above. After gaining a few years of experience, you can advance your career by furthering your studies (M.Sc. or Ph.D.).
It is also crucial to take your internships very seriously. They can be boosters for your entry-level job aspiration.  
I hope you found this guide helpful. To better understand biotechnology and its various fields of specialization, check out my guide on what a "biotech company" means.
Thanks for reading.